It Begins Now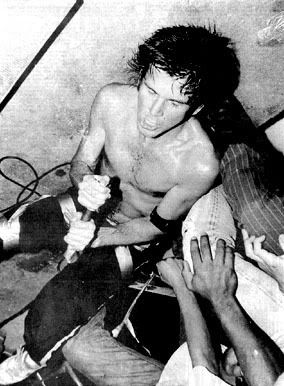 John Stabb, Gov't Issue (photo source: Kill From The Heart)
Little-known fact: I can be heard singing along to "It Begins Now" on a Gov't Issue record.
While this is probably not as cool as the kid I used to know (named Tim, from Michigan) who appeared on the
picture sleeve
for G.I.'s "Make An Effort" EP, it might make for an interesting story, anyway.
G.I. was touring for one of their albums at the time, and I got to hang out with them for a few days, even sleeping on the same floor after one of their tour stops. Before their show at CBGB's, Tom Lyle overheard John Stabb telling me that the show was going to be recorded for a live album and snarled, "We don't want people at the show to know, because then they'll shout things and ruin the tape."
Though an awesome guitar player, Tom was a bit of a jerk, by the way. It was obvious that he wanted the band to become more commercially accepted, and Stabb's flakiness didn't always fit in with the plan. When I interviewed G.I. before the show, for some reason Tom thought I was from a radio station and talked very professionally. When he found out that the interview was only for a fanzine, he got ticked off and walked out of the room (though no one else in the band seemed to care).
Anyway, during the show, Stabb made some jokes on stage about Brian Baker and Dag Nasty, which pissed off Tom Lyle and were later edited out for the record. (I know this, because I was given a copy of the original soundboard tape, which I still have.)
Being the smart-ass that I was, this gave me an idea. During the next song, "It Begins Now", Stabb held the mic out to me during every chorus, so towards the end of the song I started shouting, "Dag Nasty rules!" Stabb replied, "Shut up!" and "No they don't!", but kept holding the mic out to me anyway. Oddly enough, they left this part on the record.
When the record (the
Strange Wine
EP) came out, they had over-dubbed Jay Robbins saying "Here's the punchline to that little joke"-- which never happened during the live show-- to cover up Stabb's anti-Brian Baker intro.
Strange Wine
was re-issued a few years ago, this time as the complete CB's show from that day (August 30th, 1987); I don't own the re-issue, so I don't know if it's been re-edited.
For anyone who's thinking to themselves, "Who the hell are Government Issue?"-- which I'm sure is probably most of you-- here's an MP3 that you can click on, from
:30 Under DC
:
Gov't Issue, "Familiar" (Joy Ride LP, 1984)
Also, here's the track with me doing the sing-along, "It Begins Now":

Gov't Issue, "It Begins Now" (live)
To read more about G.I.-- one of my top five favorite bands of all time--
click here
for a piece that ran in an issue of Punk Planet.
(Dueling post titles with Greg from The Post-Pessimist Association)