Jagr wants to play for Czechs in Moscow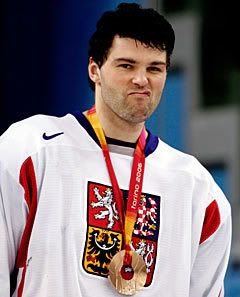 Jaromir Jagr
After the Czech Republic's bronze medal finish at the 2006 Winter Olympics in Torino, Jaromir Jagr
all but announced
his retirement from international competition, saying, "The time has come to leave."
Jagr now seems to be reconsidering, however. Interviewed by
Sport Express
after the Rangers' 5-3 loss against the Flyers a week ago (ironically, a game during which Jagr appeared to strain his shoulder on a hit from Derian Hatcher), Jagr said that he would be ready to play for the Czech Republic at the World Championships in April.
Sport Express quotes Jagr as saying, "I am well aware that the World Championships will be in Moscow this year. I can tell you that Russia is very dear to me, from the time during the lockout when I played for Omsk, and even when I (briefly trained) there last year.
"It may be a bit early to talk about this. Last year I said I would leave the national team, for specific reasons, some of them subjective (
a falling-out that Jagr had with the Czech head coach is said to be one reason
). I am ready to reconsider my decision. I have been contacted by the Czech Hockey Federation a number of times, but it is necessary for me to think this through first."
Jagr added that, "as a professional", his priority is to concentrate on helping the Rangers make the playoffs. The Rangers, who currently stand in 12th place in their conference, would have to miss the post-season in order for Jagr to be available to play in Moscow in April.