Looking For Something Clean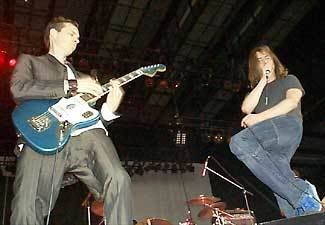 Copyright's Christian Thor Valdson and Tom Anselmi (ex-Slow), July '01
(Photo: Jenny Yuen/Chart Attack)
A couple of things that I pretty much know to be facts--
The best Canadian invention of all time: Hockey.
The best Canadian band of all time: Slow.
Not only have most people never even heard of Slow, for years I was thinking that I would never hear their records again, either-- until a
post on another blog
came along to save the day.
I'm pretty sure that I first found out about Slow through some Canadian fanzine or other; it seemed like all the zines from western Canada were pretty funny and cool back then, and there were a number of Canadian bands that I remember being into at the time, like D.O.A., Asexuals, S.N.F.U., and the Stretch Marks. So, when I saw the first Slow single at a record store when it came out in '85, I snapped it up, even though the cover art looked
pretty stupid
.
Despite the dumb-looking front cover (and back cover drawing of the band members sitting on a couch or something wasn't all that great, either), the song ("I Broke the Circle") was awesome: punk enough, but with a Grand Funk "We're An American Band"-type hard rock groove to it. There were enough novelty aspects to the song (having a girl coo, "Wrong number, baby", during one of the non-choruses was pretty hilarious) to give the impression that Slow didn't take themselves too seriously-- an important point-- and the "Uh-uh" bridge towards the end of the song was masterful.
Still, "I Broke the Circle" was practically a throwaway compared to the heaviness of the record that followed. "Against the Glass" came out in '86, and again, the cover art (a nondescript photo of some scruffy-looking youths standing inside an old barn or abandoned factory or something) didn't give much of a clue to what was on the vinyl.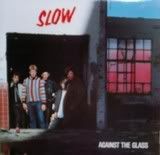 Image from Model Citizen
If you took the best elements from a bunch of the records that I was really into up to that point-- Squirrel Bait's "Skag Heaven", Negative Approach's "Tied Down", SS Decontrol's "Get It Away"-- and put them all in one place, that would be "Against the Glass". "In Deep" even sounds like the direction I could imagine SSD taking after "Get It Away", instead of the cruddy "Howie Rock" crap that they actually put out.
I liked "Against the Glass" so much that I even bought two copies, when a couple of years later I found a copy in a used bin that ended up being in better shape than my original. All of this, plus a tape I had of a couple of other Slow songs (including a cover of Nazareth's "Hair of the Dog"), disappeared years ago, either through mysterious misfortune or while moving from one town to another.
In any case, I lost track of Slow after that (as well as one of the first post-Slow projects, Tankhog), and was completely unaware of other post-Slow bands like Circle C and
Copyright
. Circle C was apparently even given a hefty six-figure advance by Geffen, releasing an album (which quickly disappeared) on the same week in 1991 that Geffen released "Nevermind" (which sucked, by the way).
About ten years ago, a book on Canadian rock bands was published that took the name of a Slow song--
Have Not Been The Same
-- to use as its title, but I missed out on seeing that one, also. Once I became more internet-savvy a handful of years ago, I tried to track down information on the band that way, but I guess I wasn't all that smart yet. In any case, typing "Slow" into a Google search doesn't really get you anywhere.
Then last month, completely by accident, I stumbled onto a post about Slow on a blog called
Model Citizen... Zero Discipline
-- including a whole bunch of MP3's, no less!! As you can see by some of the comments attached to that post, there are a number of people who were just as happy to find this stuff as I was.
From the Against the Glass 12" EP (1986):

Slow - Against the Glass

Slow - In Deep

Slow - Have Not Been The Same

From the "I Broke the Circle" 45 (1985):

Slow - I Broke the Circle
I took a few of the MP3's and saved them to my newly-minted Vox account, so you can click on the above links to hear each song.
My thanks go out to Model Citizen for posting all of this stuff for me to swipe; you can check out lots more (like Circle C and Copyright songs) by going to their original blog post.
UPDATE - Slow, "Have Not Been The Same" video!
Also, here's a direct link to the original video, although the YouTube version has pretty good quality (thanks to
From Blown Speakers
- check out their blog post, too, it's excellent):
Slow - Have Not Been The Same (video)
Through the same link, you can also find videos from D.O.A., Tankhog, NoMeansNo, 3 Inches of Blood, and others.
UPDATE 3/25/07 -
I found this great mention of Slow in a comment string on
some other blog
:
I called Slow the greatest rock and roll band of all time because they made one glorious album/EP and one great single, did one tour, then called it quits leaving a beautiful corpse.

They also singlehandedly shut down a showcase for Vancouver bands at Expo 86 after singer Tom Anselmi devoted their set to hurling abuse at the crowd and disrobing. Best of all, they gave as their reason for splitting up, the fact that if being a band meant having to tour Eastern Canada again they'd just as soon not be a band.

I was at their lone Ottawa show, fourth on the bill at a 5 Arlington punk show. They so offended the other bands playing that night that after one of their amps blew no one would lend them another and they were forced to pack up after three songs.

Like I said, the greatest rock and roll band ever.