Pack Dumped by Devils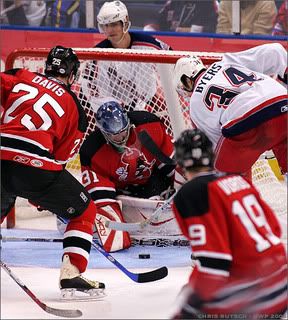 Chris Rutsch photo
Tonight's Pack game was a boring-as-hell matchup against the Lowell Devils (imagine that), with the Wolf Pack able to muster only 9 shots on goal over the first two periods, on their way to a lackluster
2-1 loss
. I can only remember one or two games past the opening month-and-a-half of the season where the Wolf Pack were outshot by the other team, yet in this game Hartford went what might've been 7 or 8 minutes in the last half of the second period without recording a shot on net.
Al Montoya let in two goals on the first two Lowell shots in the second period, and that was pretty much the game right there. The first goal came after Martin Richter was completely undressed, leading to a scoring chance and an ensuing rebound. Montoya then lost his footing and fell down as he moved out to play the puck, leaving Richter to stand in front of the mostly unguarded net, allowing Lowell's Rod Pelley to score. It wasn't the only time that Montoya fell down entirely on his own tonight, either.
Lowell's second goal came on a deflection of a Nik Bergfors shot by Ryan Murphy, which was hardly Montoya's fault. Just a few seconds later, the Wolf Pack scored their only goal of the night when Hugh Jessiman beat 6'-7" bag-of-bones Olli Malmivaara to a loose puck in front of the Lowell net, with Jessiman reaching forward and softly nudging the puck past a napping Jordan Parise.
Dane Byers had the only fight of the game, early in the third period against Olivier Magnan. Magnan lost his balance in the early going, giving Byers an opening that he took advantage of. Magnan ended up covering up to save himself further punishment, which earned a couple of f-words and a turtle-like taunting gesture from Byers.
Borat! High five! (Chris Rutsch photo, finally)
Alex Bourret played in his first game for the Wolf Pack since being
acquired by the Rangers
in a trade for Pascal Dupuis. Ryan Constant also played, having just been called up from Charlotte. Don't ask me if they played OK or not, because I was asleep. When Hugh Jessiman is the star of the game (handing out the best hit of the game, besides scoring the only Hartford goal), you know you're in trouble. David Liffiton and Ivan Baranka were among the Wolf Pack players who weren't making everyone cringe through most of the game.
Referee Jamie Koharski made three phantom calls against the Wolf Pack in the first period, then had his mouth bloodied midway through the second period when he was caught between two players' sticks along the boards near the Wolf Pack bench. Koharski ended up taking the last half of the second period off, although nobody seemed to miss him that much.
The Wolf Pack play their next four games on the road, where they are 19-8, versus 15-16 at home.