There are some issues here...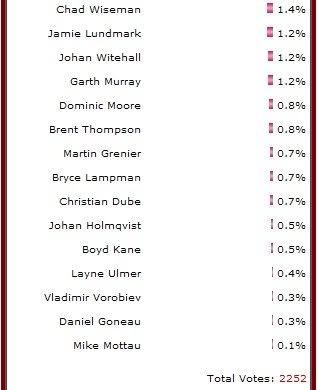 ...and it's not just that Vladimir Vorobiev is getting hardly any votes.
The Hartford Wolf Pack's "10 Years, 1 Mission" site is accepting votes for the
Wolf Pack All-Decade Team
, but you're only allowed to vote for one player. Not an entire line-up of players (goalie, defensemen, forwards), but just a single All-Time Player.
Of course, this means that most people are going to vote for their one most favorite player-- most likely a forward-- and players like Tomas Kloucek and Lawrence Nycholat, who might've otherwise gotten a ton of votes each as All-Decade defensemen, aren't going to get very many votes at all. Hey, wait a minute--
Tomas Kloucek isn't even on the ballot!
That's just wrong.
In any case, here would be my picks for the Wolf Pack All-Decade Team:
Goaltender
Dan Cloutier

Forwards
Derek Armstrong
Brad Smyth
Ken Gernander

Defensemen
Tomas Kloucek
Lawrence Nycholat
Picked regardless of position (L - R - C), by the way.
I would've liked to have found a way to include Johan Witehall and/or Marc Savard at forward, but it's pretty much impossible to go against what Armstrong, Smyth, and Gernander accomplished during their careers in Hartford.
The most talented player ever to put on a Wolf Pack jersey may have been Mike York, actually, but he wasn't around long enough (5 goals in only 9 total games with Hartford in '98-'99).
And, yes, Igor Ulanov did suit up for the Wolf Pack once (for six games back in '01-'02), but I'm trying to forget about it.