Jesse Malin Butchers "Bastards of Young"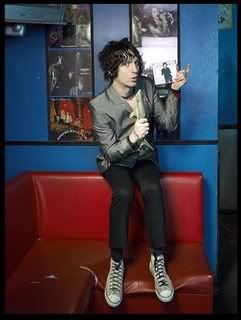 Alright, we get it-- you're gay
The Replacements' anthemic "Bastards of Young" has certainly left its own skidmark on the pages of rock history, no doubt helped along by the Replacements'
infamous Saturday Night Live performance
of the song, during which Paul Westerberg said "Get it right, fucker" to bandmate Bob Stinson on live TV, thus earning the 'Mats a lifetime ban from the show.
Now, Jesse Malin (above), who's apparently proud to have discovered classic rock 20 years after the rest of us and is now spending his retirement years putting out crappy CDs to prove it, is including a weepy, stripped-down piano version of "Bastards of Young" on his new CD, due to arrive in
dumpsters
stores any week now.
If there ever was a cover version that puts a stake through the heart of the original, this is it:
Jesse Malin, "Bastards of Young"
In an effort to be fair, here's one of Malin's better songs (from all the way back in the 90's) to help clean your eardrums out:
D Generation, "She Stands There"
And last, the classic non-video the Replacements made for "Bastards of Young":