What Next For The Wolf Pack?

From the
Hartford Courant
, March 22nd:
The Connecticut Development Authority's decision to have a partnership of Lawrence R. Gottesdiener's Northland Investment Corp. and AEG Worldwide assume the lease of the building from the city through its expiration in 2013 put the immediate future of pro hockey in Hartford in question.

Sims Hinds, senior vice president of business development for AEG Facilities, said, "We'd love to see the Wolf Pack stay. That's our option A. They're already a known entity that built up a loyal fan base that has an affinity for the Rangers, so it would make sense for us to be able to keep them at the Civic Center first. But if MSG decides to move their affiliation, we'll work aggressively with the league to make sure a franchise fills the gap as soon as it becomes open."

AEG owns the Manchester Monarchs, one of the most successful AHL franchises on and off the ice in their six-year history in New Hampshire. AHL rules prohibit someone from owning more than one team, so to keep the status quo, AEG would operate the Civic Center with MSG owning the team.

MSG and the Wolf Pack have territorial rights to Hartford, so if they don't agree to that arrangement, they would have to make an affiliation swap or replace it with a team in the ECHL, which is at a lower level. The ECHL has a team in Reading, Pa., that is owned by AEG, but multi-team ownership is allowed in that league.

AHL president and CEO Dave Andrews said the league doesn't have a role in Hartford until MSG decides its course of action. But he emphasized he would like to see the Rangers stay.

"We absolutely want a team in Hartford, and I'd like to see the Hartford Wolf Pack remain in Hartford," Andrews said. "There's no question they have put a good, solid competitive product in the facility from day one. They're a good partner in our league, and Hartford is a very important market to the AHL.

"I think the most likely scenario is AEG will enter into negotiations with the Wolf Pack to remain there," Andrews said. "I think that's what both sides would like to do and what the Wolf Pack's objective would be. I don't know why either side would be looking to do something different when there's an existing entity where the on-ice product has been very successful and the location is good for the Rangers."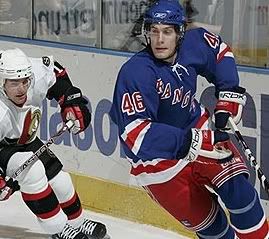 Rangers defenseman/2007 AHL All-Star Dan Girardi
Meanwhile, where the Rangers' AHL-level prospects will end up playing next season is still an open question.
A week or so ago, on his AHL.com blog, Patrick Williams
discussed
the Edmonton Oilers opening up an affiliation with Springfield next season, and how not having a full AHL affiliate affected the Oilers this year:
... This hodge-podge of a few players here, a few players there, is not the long-term route to go for the Oilers.

Injuries forced the Oilers this week to recall defenceman Bryan Young this week, he of eight career AHL games and a youngster who spent the bulk of his season skating for Stockton of the ECHL.

Said Oilers head coach Craig MacTavish to the Edmonton Sun: "We're totally running out of bodies. We don't have any defensemen left. We've got Bryan Young, who will be called up. Outside of that, maybe a junior."

Granted, the Oilers' current situation is more severe than normal, but this is where a deeply well-stocked organization benefits the NHL club.
Williams also had some pointed words yesterday for the Whalers hangers-on:
The anti-Wolf Pack rheteoric among some quarters of the Hartford populace would be amusing were it not so misinformed. As for those fans who think that this development could mean that the NHL would return to Hartford, we offer these questions and observations:
Click here
to read the rest of what Williams wrote.