Wolf Pack feeding Rangers with NHL-level talent
Rangers forward/2007 AHL All-Star Ryan Callahan
Bruce Berlet in the
Hartford Courant
, March 23 2007:
The Wolf Pack have never had as many burgeoning NHL players as they do now.

Jed Ortmeyer, Brad Isbister, Daniel Girardi, Ryan Callahan and Steve Valiquette are now appearing on Broadway after stays on Asylum and Trumbull. Dave Liffiton and Brandon Dubinsky just returned from the Rangers, rejoining Nigel Dawes and Jarkko Immonen. And Fedor Tyutin, Blair Betts, Ryan Hollweg and Thomas Pock played for the Pack before reaching or returning to the NHL.

"It definitely was a lot easier coming in knowing a lot of the guys from Hartford," Callahan said of his third call-up last week. "It makes you feel a lot more comfortable, and I think it's pretty special. It shows how good we're doing in Hartford."

The Rangers wanted the youngsters to remain with the Pack earlier in the season, but injuries to Tyutin, Darius Kasparaitis, Sandis Ozolinsh, Brendan Shanahan, Kevin Weekes, Marcel Hossa, Karel Rachunek and Martin Straka forced their hand. Girardi has been a mainstay since being called up four days before he was to play in the AHL All-Star Game with Callahan, the Pack's leading scorer who got his first two NHL goals Saturday. The Pack grads have helped the Rangers' 8-1-3 resurgence since the Feb. 27 trade deadline that has moved them to seventh in the Eastern Conference.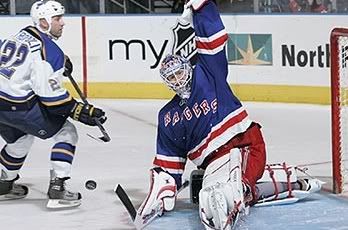 Goalie Steve Valiquette
"Not that you ever wish for injuries, but in one way, I was hoping some of the Hartford players got more of a realistic look," Rangers assistant general manager Don Maloney said. "The Hartford recalls have been tremendous, and it's really a credit to the coaching staff. The depth of the organization has been exposed, in a positive way.

"Girardi is playing like a five-year pro, as steady and reliable as they come. If you give Callahan good ice time, he'll be a productive player. Immonen and Dubinsky have been good, Dawes is waiting his turn again, and Liffiton brought an element that we didn't have, toughness and grit. The quality of the call-ups is better than ever, and I think we're going to have at least a half-dozen guys from Hartford who are going to be regular NHL players in the next year or two, as opposed to short-term fill-ins."

Rangers coach Tom Renney said the newest Pack alums have provided some impetus to the rest of the team after serving an apprenticeship in Hartford.

"The kids can now step in, and the veterans can say, `Wow, we're not going to miss a beat,'" Renney said. "We could have made the mistake of having some of them here early in the year playing limited time and not getting NHL-quality coaching they've got.

"That would have hurt us, but now we're seeing the dividends of the young guys being much better players. They have certainly provided a spark and the youthfulness and excitement of putting the Rangers jersey on and playing big games that our older guys can identify with, appreciate and respect. The young guys have been real contributors and given our veteran players no issues, nothing to worry about, in terms of whether they can participate."