Your Pretty Face Is Going To Hell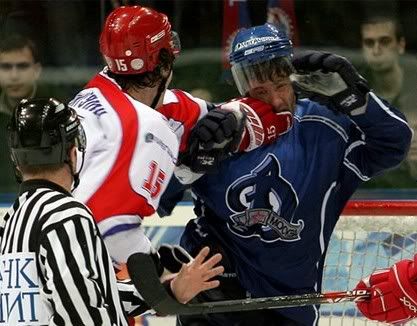 Alexander Galimov of Lokomotiv takes a swing at Dynamo's Dimitry Shitikov
in the opening game of their first round series
The first round of the Russian Super League playoffs is nearly complete, with the series between Khimik and Severstal being the only one to require a deciding fifth game, which will be played tomorrow (March 17th).
The teams that have advanced into the second round so far are Avangard, Salavat Yulaev, Metallurg Mk, Lokomotiv, CSKA (Central Army), defending champion Ak Bars, and Sibir. The second round is scheduled to start on March 20th.
Mika Hannula of Lokomotiv: 35 rubles and an
ice pack to my name
Avangard completed their three-game sweep of Vityaz Chekhov on Wednesday, with Alexei Cherepanov sitting out the third game after getting
wacked
by Reid Simpson in game two. The two teams finished game three without incident, with Simpson taking one minor penalty.
Talking about Cherepanov's leg injury in
Sport Express
folowing game three, Avangard head coach Valeri Belousov said, "The thigh won't heal in one day. He's walking around so far, although he's limping. He'll be ready by the next round."
Originally, it was feared that Cherepanov (predicted by some to be the top pick in the upcoming '07 NHL Entry Draft) may have injured his hip, but an MRI showed only that Cherepanov had an "internal hematoma", which I'm pretty sure is just a fancy way of saying he has a really bad bruise.
The Cherepanov - Simpson incident wasn't the only run-in between Avangard and Vityaz during their series. An apparent dirty hit during the first game by Vityaz's Boris Mironov (ex-NY Rangers) on Avangard's Anton Kuryanov, which only drew a minor penalty at the time, was later
reviewed by the league
, resulting in a reprimand for the referee and a suspension for Mironov.
Canucks prospect Kiril Koltsov (Avangard) takes one for the team
Just in case anyone wants some musical accompaniment while getting psyched for the second round of the Russian playoffs (yeah, sure), here's the Avangard theme song. I suppose you could try to sing along, but at 5:44 it's a bit long-winded.
Песня фанатов Авангард
(click on link to play)
I tried to find some Russian punk rock mp3's-- all the better for getting riled-up-- but the few that I found were all pretty weak, with weird effects pedals and crap like that. I do have one song from a Russian skinhead/Oi! band called Молот (The Hammer), but I'm fairly sure they're nationalists, so you can skip over this one if that isn't your thing*.
Молот - Наш Марш ("Our Marsh")
I've also downloaded some Alexei Cherepanov videos from the first round against Vityaz to my YouTube account. The first video is an assist on a nice pass from behind the net to Anton Kuryanov in game one, and the second video is the goal that Cherepanov scored in game two, minutes before he was taken out by Reid Simpson.
Cherepanov assist vs. Vityaz 3-11-07
Cherepanov goal vs. Vityaz 3-12-07
There's also another Cherepanov video (from Russian TV) that was just loaded on to YouTube earlier today, showing all of Cherepanov's points in the first round as well as the injury. The video goes by quickly, but it's still worth a look.
Cherepanov first round highlights
*Or if you're not into weak Rusted Root-sounding intros-- though once you get past that, it's not a bad song