Gil Thorp Is Downright Fashion Conscious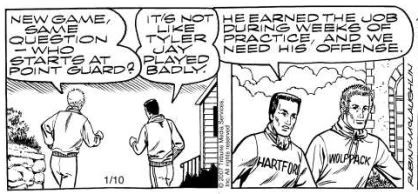 As recently noticed by
This Week in Milford
("just another pointless blog... in order to relentlessly mock the well-intentioned but often disturbing 'Gil Thorp' comic"):
In the Jan. 10th '07 installment of "Gil Thorp", high school coaches Gil and Kaz are shown jogging around their neighborhood wearing Hartford Wolf Pack sweatshirts.
Despite the haircuts, and the elasticized-waistband sweat pants, and the fruity scarf-looking thing around their necks, Gil and Kaz are a couple of really sharp dudes, apparently.
Although the artist for "Gil Thorp" is from Connecticut, the strip's writer is from Michigan, and it's
generally been presumed
that the stories take place in the fictionalized Michigan town of Milford. How someone would go about explaining why people in Michigan have started to randomly wear the shirts of Connecticut teams (like the Southern Connecticut Owls in
this panel
) is anybody's guess...
Of course, Gil Thorp's only other notable characteristic is the strip's unending supply of corny jokes, creepy undertones, and bizzare cultural references, as the following examples demonstrate (taken from This Week in Milford's
random amusing panel archive
).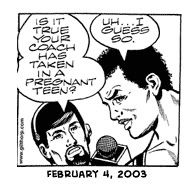 Actually, the more I think about it, I kinda wish those were Bridgeport Sound Tigers sweatshirts instead.