IIHF announces Champions League for '08-'09
Winner to play against NHL challenger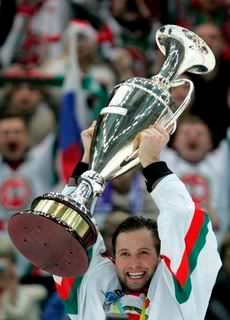 Alexei Morozov of Ak Bars with the '07 Silver Stone cup
The International Ice Hockey Federation
announced today
a preliminary plan for the European Champions League, an annual round-robin tournament that will involve the top twenty-four ranked European hockey teams beginning with the '08-'09 season.
Along with the announcement, IIHF President René Fasel said that the IIHF already has an agreement with the NHL to allow the "best team(s) from the Champions Hockey League and an NHL challenger to annually play for a world trophy in late September."
"This is a vision that we have had for quite some time and started to work actively on for several months and today we informed our member national federations and their leagues about the plans," said René Fasel. "There are still details to be ironed out, but we are sure that we have a financial and sportive foundation that will imply a new era for European club hockey and club hockey world wide.

"This is something that we have been trying to make feasible for years and finally we believe that together with our partner NHL we have a concept for an annual September showdown," stated Fasel, who also said that further details can be announced as early as during the upcoming IIHF World Championship in Moscow (April 27 – May 13).
The Champions League format would begin with the 7th- through 24th-ranked European teams playing off through two qualifying stages. The top six teams from that group would then advance to the quarter-final group stage, where they would play a double-round robin tournament against the current champions of the 6 top European leagues.
The winner of the Champions League each year would likely receive the Silver Stone trophy, which is currently being awarded to the winner of the IIHF European Champions Cup (last won by Ak Bars).
UPDATE 2:47pm -
The
TSN version
of the announcement.
UPDATE 4/24/07 -
A story in
Sport Express
says that the prize money for the Champions League will total $15 million, with close to $1 million going to the winner.