Metallurg routs Ak Bars in opener, 5-2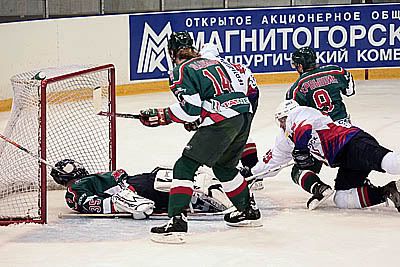 Metallurg Magnitogorsk took the
first game
of the Russian Super League championship finals earlier today, 5-2 on Kazan's home ice over Ak Bars.
Defending champs Ak Bars entered the finals as the favorite after having romped through the '06-'07 regular season, outscoring their opponents, 214-111. Metallurg is now 10-1 in the playoffs after finishing fourth during the regular season, 19 points behind Ak Bars.
Nikolai Kulemin scored two goals for Metallurg, with Alexei Kaigorodov and Ravil Gusmanov each having a goal and an assist, and Jan Marek adding two assists. Sergei Zinovjev and Vladimir Vorobiev were the goal scorers for Ak Bars, with Alexei Morozov assisting on both of Ak Bars' goals.
20-year-old Kulemin became the focus of the Metallurg offense after Evgeni Malkin left the team during the pre-season, and so far he has thrived under the pressure, with 8 of his team-record 35 goals this season coming in the playoffs. Meanwhile, Ak Bars Kazan has three of the league's top six point-getters in Alexei Morozov (94 points in 61 games), Danis Zaripov (71 points, 62 games) and Sergei Zinovjev (66 points, 51 games), as well as top-scoring defenseman Ray Giroux (15 goals and 32 assists).
Game two of the finals is tomorrow (Sunday).