Run Westy Run
The final shootout goal trickling beneath Alex Westlund (Heather Rutsch photo)
The Hartford Wolf Pack took a quick 2-0 lead on their first two shots on goal against the Springfield Falcons on Saturday night, then let the game slip away through a variety of miscues, misplays, and miscalls, with the Falcons eventually winning following an
overtime shootout, 4-3
.
Brandon Dubinsky scored just 2:11 into the first period, on a give-and-go with Dane Byers. A few minutes later, Falcons defenseman Mike
(Ut-O-Eggy-O)
Egener simply fell flat on his ass in the right-hand corner while trying to cover Nigel Dawes, allowing Dawes and Jarkko Immonen a 2-on-1 break with Immonen scoring.
Falcons coach Steve Stirling called a timeout right after Hartford's second goal, and the Falcons responded with three unanswered power-play goals in the second and third periods. Defenseman Justin Fletcher scored the first two Springfield goals, the first coming after Hartford defenseman Dylan Reese took a bad holding penalty. Fletcher's second goal, which tied the game at 2-2 with seven seconds left in the second period, happened after a Falcons player (I think it was David Spina) was shoved and landed from nearly crossbar height on top of Wolf Pack goalie Alex Westlund. With Westlund pinned down outside the crease, Fletcher had an easy shot at an open net.
Springfield's second goal (Fletcher's third in seven games since being signed out of St. Cloud State) came as Hartford's David Liffiton was serving the second penalty of a double-minor, received after he stupidly mouthed off over a hooking penalty.
Another Falcons newcomer, Jacob
Dick Licker
Micflikier, gave the Falcons their first lead of the game, 3-2, when he redirected a Joe Rullier slapshot at 6:58 of the third period. Brandon Dubinsky then scored his second goal of the game at 12:51, again with Dane Byers getting an assist, tying the game up at 3-3 and saving a standings point for Hartford. It was Dubinsky's seventh goal (to go along with six assists) in his last 10 games.
Alex Westlund then gave up four goals on Springfield's last four shots during the shootout. By the end of the shootout, Westlund had the look of a golfer with the yips who just knows that none of his putts are ever gonna fall.
Purinton vs. Fritz (Heather Rutsch photo)
Dale Purinton fought Mitch Fritz early in the game, though Fritz won and it was nothing special; in fact, a lot of Dale's fights this year have been pretty boring. Hugh Just-for-Men, who probably figures that if he's gonna score like a goon (12 points in 46 games) then he might as well become one, had his second fight in as many home games. The fight was actually caused by Francis Lessard, who shoved Stephen
(Reecky Booby)
Baby from behind, with Baby turning and shoving Jessiman instead. Jessiman won the fight, punching Baby square in the jaw after pinning him to the ice.
Oh, yeah-- one final note: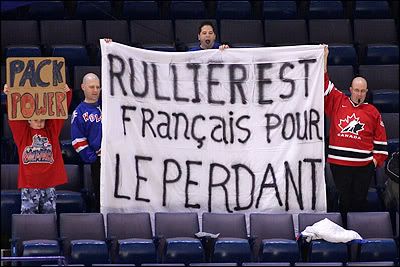 (Chris Rutsch photo)