Aerials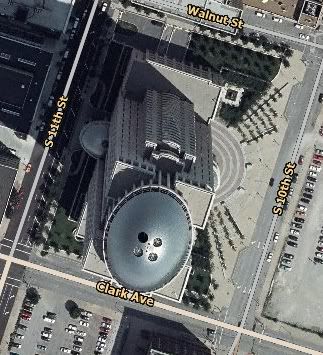 Some weird-looking building in St. Louis
Greg of Post-Pessimist Association's recent ruminations on idle ways to
kill time on the Internet
got me to thinkin' about one of my own favorite Internet pastimes as of late: zooming in on ballparks, hockey arenas, old punk rock clubs, streets where I used to live, etc. using the satellite images on Mapquest.
Just type in any place or location into
Mapquest
(or any of the other sites, like Google Maps, that support satellite imagery), click the part of the map where it says "aerial image", and then you can zoom around, looking at all kinds of neat shit.
Yale Field in New Haven, where the New Haven Ravens used to play. The Ravens built a picnic area on top of the warning track in right field (white arrow), making a "short porch" that allowed cheap 290-foot home runs.
The Ballpark at Harbor Yard (Bridgeport Bluefish), with the "Corruption Dome"-- the Arena at Harbor Yard (Bridgeport Sound Tigers)-- just north of it. Beyond the fence in right field are the Amtrak train tracks; the trains roll by every few minutes, looking as if they're floating right above the fence.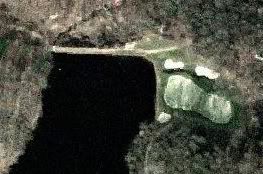 The par-three 9th hole at Yale Golf Course. The green (which looks like a shoe print in this photo) is huge, but the tee shot is over water, and the green has a
five-foot gully
through the middle of it! Miss your shot on the wrong side of the gully and you're screwed.
HSBC Arena (Buffalo Sabres). When you zoom in on the arena, though...
...the roof mysteriously disappears.
Here are a few other places to check out (note that cityscapes tend to look a lot crisper than country settings):
New Britain Stadium
, New Britain Rock Cats-- with the old stadium that it replaced, Beehive Field, just to the left of it
Wrigley Field
, Chicago Cubs
Tiger Stadium
in Detroit, now abandoned
Xcel Energy Center
, Minnesota Wild
RBC Center
, Carolina Hurricanes
Commerce Bank Park
, Harrisburg Senators-- the ballpark was built on a tiny island in the middle of the Susquehanna River
HP Pavilion
, San Jose Sharks
25 Perry Ave
, Stamford Ct.-- warehouse that used to be the second location of the semi-famous Anthrax punk rock club (I'm still working on finding the first)
Joe Louis Arena
, Detroit Red Wings
Municipal Stadium
, Waterbury Ct.-- the first minor-league stadium I ever went to. It used to be a horse track, which is why the stands are on only one side of the field
Madison Square Garden
, New York Rangers
Wahcona Park
, Pittsfield Ma. and
Sam Lynn Ballpark
, Bakersfield Ca.-- two minor-league baseball stadiums that were built facing the wrong way, so that the setting sun gets in the batter's eyes, causing "sun delays"
Lambeau Field
, Green Bay Packers
America Airlines Arena
, Dallas Stars