Here's To Evil, Klink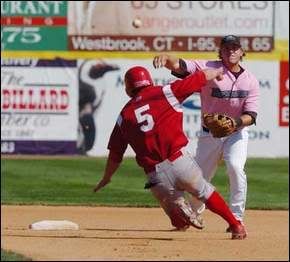 I'm not here for your entertainment (Khoi Ton/Norwich Bulletin photo)
Spitting in the face of the fact that G12
doesn't like baseball much
, I figured I'd post a few thoughts after taking in a ballgame for the first time this season-- namely the Connecticut Defenders'
10-4 loss
to the Reading Phillies on Sunday:
» As has usually been the case throughout their affiliation with San Francisco, this year's Connecticut Defenders team features top-flight pitching and defense, but hardly any offense whatsoever. That wasn't part of the plan yesterday, though, as the pitching walked four batters early on that eventually came around to score, and the defense played sloppily also.
» Despite doing a number of things right ($5 tickets, $2 hot dogs, $3 beers), the Defenders still languish at the bottom of the Eastern League in attendance. I was able to count the crowd on Sunday in the time it took for them to play the National Anthem, since that in itself was a bit of a screw-up; "The Star-Spangled Banner" wasn't cued up in time, so they went with "God Bless America" instead, only to stutter-start "The Star-Spangled Banner" after blasting a few excess notes of "God Bless America" for good measure.
» The Defenders wore pink jerseys that they auctioned off later, an altogether noble idea that has gotten way too silly now.
» The Defenders this year sport names like Simon Klink, Darren Sack, and
Trey Webb
on their roster; Reading counters with
Brian Burgamy
,
Todd Jennings
, and Michael Garciaparra (Nomar's brother).
» The Dodd Stadium PA announcer couldn't... be... more... somnolent... of course, if you're going to use Van Halen's corny "Right Now" to try to pump up the crowd when the team takes the field (might work for hockey, not for baseball), you're pretty much fighting an uphill battle anyway.