Hockey, Made in Russia*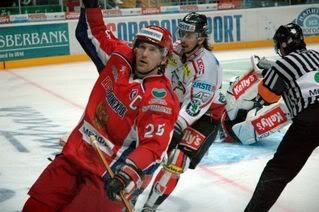 Captain of Team Russia, Petr Schastlivy
Well, it looks like the Rangers held on to
knot
their series with Buffalo tonight by the skin of their teeth, or the
skin of Lundqvist's right pad
, or whatever...
Though the Stanley Cup playoffs are at full steam, the IIHF World Championships are also going on, and while you can follow the results on the
IIHF web site
, D-Lee over at
Red and Black Hockey
has also been doing his part in covering the action. (As of this hour, D-Lee has yet to mention Russia's
big 5-4 win
earlier today over Finland, though.)
Not having any video from today's game between Russia and Finland, I'll offer this video from my YouTube account of a previous Russia - Finland game, from the '07 Eurotour back in February. Russia came back from being down 3-0 to beat Finland in overtime, 4-3, on an incredible goal by Anton Kurianov.
This video shows several replays, the best one being the last. You can see Kiril Koltsov threading a pass through traffic to Anton Kurianov, who then sends a brilliant behind-the-back pass over to Sergei Mozyakin. Mozyakin uses his skate to control the puck, then sends a backhanded pass right back to Kurianov, who scores.
Try pulling off that one at home...
*This used to be Russian Hockey Digest's tag line, but they're not using it anymore, so I'm stealing it