Morozov says he'll remain with Ak Bars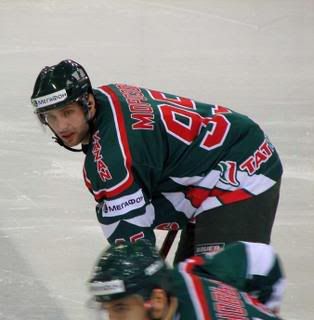 Alexei Morozov
Alexei Morozov is promising to honor his contract and stay with Ak Bars Kazan for the next two seasons, according to a press conference interview Morozov gave that was printed in Soviet Sport and posted earlier today on the Ak Bars Kazan
web site
.
Citing the remaining two years of his three-year deal, Morozov said that he will "fulfill his obligation to the team." When his pledge to remain in Kazan was met with skepticism by some of the reporters, Morozov responded, "If you don't believe me now, then wait and see."
A report that ran in
Sport Express
yesterday claims that both the New York Rangers and the Phoenix Coyotes offered Morozov multi-million dollar deals, but is short on giving any details.
Regarding his upcoming surgery to repair a recent
knee injury
suffered at the World Championships, Morozov says that he will spend four days in the hospital before undergoing a month of rehab, but that he expects to be back at full strength by next season.
Meanwhile,
Sport Express
reported yesterday that Morozov's linemate,
Danis Zaripov
, spurned two other Russian Super League teams to sign a new two-year deal with Ak Bars. The team says they are hopeful to have Morozov's other linemate,
Sergei Zinovjev
, under contract soon.
Ak Bars may lose goaltender Alexander Eremenko, who is
said
to be entertaining offers from several other Russian teams, including Salavat Yulayev and Central Army. Eremenko posted the third-best goals-against average in the Russian Super League last season, and was the starter for Team Russia at the recent World Championships.