Ovechkin Suspended At Worlds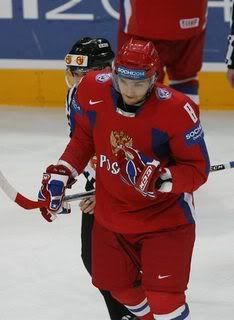 Alexander Ovechkin being led off the ice during Russia's 6-3
win over Switzerland (Alexander Fedorov/Sport Express photo)
Alexander Ovechkin had been given a one-game suspension for a hit on Switzerland's Valentin Wirz, which occurred during Russia's 6-3 win over Switzerland in a World Championships qualifying round match earlier today.
From the IIHF
web site
:
After serving a too many men on the ice minor for Russia in the first period, Ovechkin stepped out of the penalty box and laid a high hit on Wirz, who went down in a heap and slid over the Russian blueline. Wirz was assisted off by the Swiss trainers, and Ovechkin was assessed a major and game misconduct for the hit to the head at 8:42 of the first period.

According to Swiss Head Coach Ralph Krueger, Wirz has a slight concussion.

The tournament directorate held an extraordinary meeting at midnight Moscow time and suspended the Russian forward for one additional game, which means that Ovechkin will not be in the lineup against Sweden on Monday. The directorate decision was unanimous.

"I think it was a clean hit," Russia's Sergei Gonchar asserted. "Ovechkin's not a player that's running around trying to kill people. The guy just didn't expect to be hit."
The report in
Sport Express
called it a "hit to the head".
Sport Express also posted this photo from the game, which shows a Swiss player in mid-air behind Russia's Ilya Nikulin (#5), but the caption doesn't indicate if the photo is of Ovechkin's hit or not.
The story on the IIHF web site also included this passage:
During the first intermission, Mike Keenan, the former Stanley Cup-winning coach of the New York Rangers and current consultant to the Swedish junior program, was shown on the Jumbotron's Kiss Cam along with his wife. After initially looking reserved, Keenan went ahead and locked lips.
Ooooh, sexy.