Sidd Finch Can Kiss My Ass, Too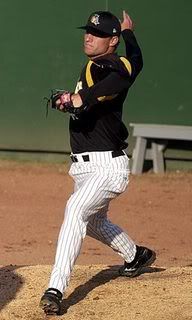 The strange saga of Jason Neighborgall (
Rick Ankiel, anyone?
, Aug. '05) continues...
Yahoo Sports' Jeff Passan
tracks down
"the greatest arm in all of baseball," still struggling in the low minors with the South Bend Silver Hawks:
Jason Neighborgall makes Nuke LaLoosh look like a control pitcher.

Only when scouts see the radar gun flash 100 mph on Neighborgall's fastball, or when they see his nose-to-knees curveball break, they blink their eyes just to make sure they actually saw what they think they saw. Scouts have a scale to rate players' attributes. The low end is 20, the high end 80. Joel Zumaya's fastball is an 80. Johan Santana's changeup is an 80. Francisco Liriano's slider is an 80.

Both Neighborgall's fastball and curveball are 80s.

"When I got him the first year," says Mel Stottlemyre Jr., Neighborgall's pitching coach for two seasons, "I said, 'That stuff is as good as I've ever seen on the side in rookie ball.' It's ungodly stuff."

Neighborgall doesn't understand what happened. Now 23, he never had great command over his pitches. He never watched them soar in all different directions, either.

Neighborgall isn't Steve Blass or Rick Ankiel. He didn't lose it instantaneously. It's been missing for years.

In his first season out of Georgia Tech, with rookie-ball Missoula, he issued 45 walks in 22 2/3 innings. Last year, still in rookie ball, it was 46 in 13 innings.

It's evident even during batting practice. Before he heads to the outfield to shag fly balls, Neighborgall is playing catch with Brett Anderson. While Anderson tosses the ball straight into Neighborgall's glove, Anderson flails right and left to catch Neighborgall's returns. Three times, Anderson leaves his feet to keep the ball from sailing over the fence onto a grassy slope.

In five appearances with South Bend, Neighborgall has pitched one inning, given up three hits and 12 earned runs, walked 12, struck out two, thrown nine wild pitches, hit three batters and posted a 108.00 earned-run average.

"It's out of control," Neighborgall said. "And I don't know what to do."